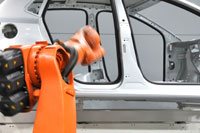 Whatever your bonding needs may be, at Cyberbond, we have your important adhesive requirements met. Numerous industries understand that they can rely on Cyberbond, no matter how big or small their adhesive needs may be. Cyberbond is committed to meeting the strictest of standards for industrial adhesives. Our quality systems meet ISO 9001:2008 certification, ISO/TS 16949:2009 certification and ISO 13485:2003 certification. When it comes to industrial adhesives, Cyberbond knows what it takes to produce adhesives that bond to a variety of surfaces for many different industries. Whether you just need a small amount of industrial adhesive or mass quantities for a large project, Cyberbond has you covered.
Cyanoacrylate Adhesives: Cyanoacrylate adhesives are also known as super glues and are solvent free and have a quick set time.
UV Curing Adhesives: For applications which require resistance to thermal cycling under vibration, shock stresses or environmental exposure, go with UV curing adhesives.
Anaerobic Adhesives: Anaerobic adhesives produce metal-to-metal bonds that are resistant to shock and vibration.
Epoxy Adhesives: Electronics and general product assembly industries make use of epoxy adhesives to bond most plastics, metal, ceramics, wood and rubbers.
Methyl Methacrylate Adhesives: Methyl Methacrylate adhesives are designed for structural bonding of any combination of thermosets, nylons, engineered thermoplastics, composites, e-coat and metal.
Adhesive Accelerator: An adhesive accelerator assists in gap-filling and fillet applications, speeds the cure of cyanoacrylate adhesives and can be pre-applied or post-applied.
Cyanoacrylate Remover: A cyanoacrylate remover is a colorless liquid which can quickly soften and dissolve adhesive from unwanted areas.
Cyanoacrylate Primer: Cyanoacrylate primer enhances bond strength of cyanoacrylates on tough to bond substrates such as polyethylene, silicone rubber, polypropylene and any non-polar plastics.
Medical Adhesive: Our medical adhesives are of the highest quality for the medical and healthcare industry.