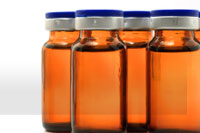 Adhesive Solutions
Go with Cyberbond for all of your glue solutions. Whatever your glue requirements may be, we have numerous adhesives that contain multiple properties for all of your important needs. Whether your industry is aerospace, medical, automotive, military or another, Cyberbond has the adhesive solutions you can trust. We are committed to producing superior quality glue for your adhesive needs. From aluminum to magnet glue and fiberglass to copper glue, Cyberbond has the adhesives you can rely on.
Aluminum: Due to aluminum's chemical properties, adhesives will obtain 100% of their strength when bonded to aluminum.
Copper: Copper is a highly-conductive, corrosion resistant and ductile metal which is easily bonded by epoxies, acrylics or cyanoacrylates offered by Cyberbond.
Magnet: Cyberbond manufactures magnet adhesives that can handle the absorption of shock and impact, ensuring that the connection between magnets remains strong and secure.
Fiberglass: Since fiberglass is simply a glass-strengthened plastic, plastic bonders such as acrylics will easily bond fiberglass.
Foam: While the foam will usually require the use of a primer or surface preparation such as roughening to increase strength, our foam adhesives can take it from there.
Glass: Because of its unique surface properties, glass can be a difficult material to bond, but our glass glues are designed to cure invisibly clear, making them the ideal choice when looks are just as important as glass bonding strength.
Leather: Our leather adhesives are consistent in quality, guaranteeing that your leather bonding needs will be successful – every time.
Metal: Metals can be strongly bonded by a wide variety of different adhesive technologies such as acrylics, epoxies, cyanoacrylates and also UV-curables.
Mirror: Our Cyberlite UVs are designed to cure optically clear, making them the ideal mirror adhesive for situations in which looks are just as important as bond strength.
Nylon: The nylon adhesives which will work best are cyanoacrylates (which work without the need for any primer) and UV-curables.
Paper: If your company requires paper adhesive for a project or a manufacturing need, adhesives from Cyberbond are your strongest bet for forming structural bonds.
Plastic: Cyberbond manufactures a wide range of plastic adhesives technologies and formulations designed for compatibility with a wide array of plastics.
Polycarbonate:  Polycarbonate adhesives are necessary for the production of items in the electronics, automotive, aircraft, medical and construction industries.
Plexiglass: Cyanoacrylates will adhere readily to plexiglass, in addition to UV-Curables and acrylics which do an incredible job for plexiglass bonding, forming a bond that will outlive the substrate.
Rubber: Primarily, Cyberbond rubber adhesives are superior to mechanical fasteners because they don't create stress in the part, whereas mechanical fasteners necessarily do; this can cause damage to the part or destroy it altogether.
Stainless Steel: As with other substrates, stainless steel adhesives have an advantage over mechanical fasteners as they function well without requiring the part to be altered.
Styrofoam: Whether you are using Styrofoam as a building or structural material, you can depend on Cyberbond's consistent Styrofoam glue to conform to your business's important production standards.
Vinyl: At Cyberbond, our vinyl adhesives remain consistent in their quality to conform to your company's specific production standards.
Wood: Wood has certain unique properties that many prevent industrial adhesives from successfully bonding to it. Fortunately, Cyberbond can meet your wood adhesive needs.